Showcasing X Regalia Filly '15
---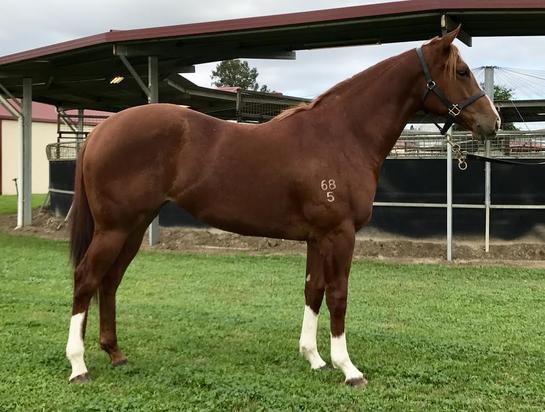 Sire: Showcasing
Dam: Regalia
Colour: Chestnut
Gender: Filly
Age: 1 year old
Foaled: Sep 23rd, 2015
Country: New Zealand
Trainer's Name: Gary Portelli
---
Pedigree
CHESTNUT FILLY (NZ)

Foaled 23rd September 2015

---

| | | | |
| --- | --- | --- | --- |
| Sire | Oasis Dream | Green Desert | Danzig |
| SHOWCASING (GB) | | Hope | Dancing Brave |
| 2007 | Arabesque | Zafonic | Gone West |
| | | Prophecy | Warning |
| Dam | Duelled | Redoute's Choice | Danehill |
| REGALIA (NZ) | | Leica Pretender | Sir Tristram |
| 2009 | Palace Bound | Palace Music | The Minstrel |
| | | Kiwi Magic | Vice Regal |

---

SHOWCASING (GB) (Bay 2007-Stud 2011). 2 wins at 2, York Gimcrack S., Gr.2. Leading NZ Sire of 2YOs & Leading First Season Sire in 2014-15. Sire of 332 rnrs, 188 wnrs, 15 SW, inc. Quiet Reflection (Royal Ascot Commonwealth Cup, Gr.1), Prize Exhibit, Tasleet, Showboy - Jade Fortune (H.K.), Toocoolforschool, Cylinder Beach, Conselice, Cappella Sansevero, Caorunn, Maximum Aurelius, Moonlit Show, Showemup, Accipiter, Hardline, Raghu, SP Cavallucci, etc.

1st dam

REGALIA, by Duelled. 5 wins at 1000m, 1200m, CJC Vernon & Vazey Truck Parts H., WRC Mills Reef H., 2d ARC Stella Artois H., Hawkes Bay HB Master Plumbers H., Levin RC Chainey's H., Taranaki RC Hirepool H., 3d Matamata RC Lowe Schollum & Jones H. Half-sister to Amarantha, Queenie (dam of TRUMP). This is her first foal.

2nd dam

PALACE BOUND, by Palace Music. 2 wins at 1000m, 1200m in Aust. Half-sister to FLITTER, MY ROYAL CAPTAIN, Sakti. Dam of 13 named foals, all raced, 9 winners, inc:-

Amarantha (Van Nistelrooy). Winner at 1300m, 2d AJC Keith Mackay H., L, Mahogany 2YO H., 3d AJC Kingsford H., 4th AJC Reginald Allen H., L. Producer.

Regalia. 5 wins. See above.

Bonbird. 3 wins at 1200m, 1350m, A$102,860, STC Canterbury Hurlstone Park RSL Club H., Classic Hits H., 2d AJC Winooka H., Botany Bay H., Indian Summer H., Ozinvest H., STC Caringbah Women's Auxiliary H., 3d AJC Clive Caldwell Memorial 2YO H., City Tatt's RC Matthew Talbot Hostel H., STC James Hardie H., Young Members H., Sunsilk Fruitrience H., Chifley Financial Services H., Nivea Visage Girls Day Out H. Dam of-

Snappy Esprit (Bel Esprit). 3 wins at 1000m, A$99,160, to 2015-16, Bendigo JC Sutherland Property H., 3d VRC Bob Hoysted H., L.

Queenie. 2 wins at 1200m, 1400m, 2d STC De Bortoli Yarra Valley H. Dam of-

TRUMP (Written Tycoon). 8 wins-1 at 2-from 1100m to 1650m, A$193,950, HK$4,404,350, to 2016-17, BRC Gunsynd Classic, Gr.3, Ambassador Travel H., Blackwoods Brisbane Bloodstock Bonus 2YO S., Bundaberg Distilling Company H., HKJC Nga Tsin Wai H., Hawthorn H., Cotton Tree H., East Point H., 2d BRC Queensland Day P., L, HKJC Wong Chuk Hang H., Lockhart H., CUHK Alumni Cup, Dorset H., 3d BRC Coolabah Tree Cafe 3YO H., Rockhampton JC Magic Millions 2YO Classic P., HKJC Tropicbird H., Shouson Hill H., Wan Chai Gap H., Shau Kei Wan H.

Marju Rani. Winner at 2 in Aust. Dam of-

Rebel Miss. 3 wins-2 at 2-to 1050m, A$82,385, to 2016-17, BRC Absolutely Fabulous Movie 2YO H.

Lady in Waiting. Placed in NZ. Dam of-

Downton Abbey (Tavistock). Winner at 1600m in 2015-16, 2d ARC Royal S., Gr.2.

3rd dam

Kiwi Magic, by Vice Regal. 3 wins to 1200m, MVRC Deep Creek H., SAJC How Now H., 2d SAJC Walter Brown S.H., L, 3d SAJC Carlita H., VATC Regent H. Half-sister to Fearless Dancer (dam of DIPPING). Dam of 13 foals, 11 to race, 9 winners, inc:-

FLITTER (Bluebird). Champion 4YO+ mare in Australia in 1994. 9 wins-3 at 2-from 1100m to 1600m, A$792,280, BATC Doomben Ten Thousand H., Gr.1, STC Winfield Classic, Gr.1, AJC Keith Mackay H., L, James HB Carr S., L, MVRC Crown Lager S., L, Newcastle JC Cameron H., L, 2d AJC Stan Fox S., Gr.3, NSW Tatt's RC Tramway H., Gr.3, STC Premiere S., Gr.3, 3d STC Winfield Classic, Gr.1, AJC Surround S., Gr.2, Light Fingers S., Gr.3, STC Queen of the Turf S., Gr.3, Premiere S., Gr.3, NSW Tatt's RC Furious S., L, STC Heritage S., L, Gosford RC Belle of the Turf S., L. Dam of-

Unconditional Love. Winner at 1100m, AJC Zibara Collection P., 3d STC Motori Italiani Expo H. Dam of-

JESSY BELLE (Rock of Gibraltar). 8 wins from 1200m to 2000m, A$784,425, to 2016-17, VRC Matriarch S., Gr.2, Leilani Series Final H., MRC Sportingbet.com.au H., VRC Leilani Series Heat H., 3d VRC Blazer S., Gr.2, BRC Dane Ripper S., Gr.2, MRC Tristarc S., Gr.2, William Hill Series Sprint S., Gr.3, ATC Lord Mayor's Cup, L, SCTC Ascot H., L.

MY ROYAL CAPTAIN (Zabeel). 7 wins from 1200m to 1600m, S$585,092, 92,000Dhs, Singapore TC Patrons' Bowl, L, Open H.-twice, Sydney Turf Club Trophy, 2d Singapore TC Perak Turf Club Trophy, 3d UAE Two Thousand Guineas, Gr.3, Singapore TC 3YO Challenge (2nd Leg), L, 4th Singapore TC Kranji Mile, L.

Sakti (Grosvenor). 2 wins at 1600m, 2100m, Waikato RC Straussbrook H., 2d AJC Frank Packer P., Gr.3, QTC Qantas Club H. Sire.

Making Waves. Unraced. Dam of-

Jetski(wi) (Jetball). 7 wins at 1400m, 1600m, NZ$180,125, A$81,000, ARC Lindauer Fraise H., 2d ARC Easter H., Gr.1-twice, BOP RC Japan-New Zealand International Trophy, Gr.2, 3d ARC Easter H., Gr.1.

Geeta. Winner at 1600m, 2d STC Toll Logistics H. Dam of-

MARHETA (Al Maher). 3 wins from 1400m to 2000m, A$264,778, BRC Doomben Roses, Gr.3, MRC All American at Arrowfield Stud H., 2d Queensland Oaks, Gr.1, Gold Coast Bracelet, L, MRC Apex Steel P. Producer.