Secret Lady sinks Golden Gift plunge and heads to the Magic Millions
Nov 27, 2017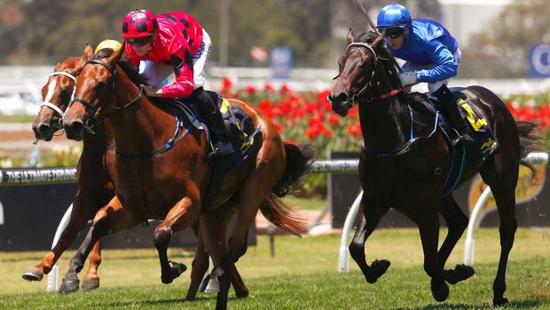 Gary Portelli is thinking the Magic Millions or Golden Slipper for Secret Lady after she crushed punters' hopes by beating Godolphin colt Plague Stone in Saturday's Golden Gift at Rosehill.
Plague Stone, an impressive Canterbury barrier trial winner, was $2.10 when betting opened on Wednesday but by the time they jumped was a $1.35 favourite in one of the biggest plunges on an unraced two-year-old in Sydney this century.
"The money started when we opened him and it was still coming right up to race time. We had actually held more on one horse [Plague Stone] than on any other race today," TAB's Glenn Munsie said.
But in the end it was race experience that held sway as Secret Lady did everything right.
Plague Stone should learn a lot from the raceday experience but that will be little solace for punters, and Godolphin trainer James Cummings wasn't making excuses.
"We will get him home then assess things," Cummings said.
Portelli has always held a strong opinion of Secret Lady since she came into the stable and the win means she can head to the Gold Coast for the Magic Millions.
"You have to choose one or the other, it is the Golden Slipper or Magic Millions and because she is a ladies' syndicate horse the Gold Coast has a lot of appeal," Portelli said. "She has shown a lot from day one. She has been a natural.
"I was pretty confident when I saw the favourite doing a lot wrong. With her race fitness she was always going to fall back on that.
"The second horse was a bit unlucky but we had our horse ready to go, got the job done and now we are qualified for the Magic Millions and probably the Slipper."
If she goes to the Gold Coast, Secret Lady will have another run.
"I had to give her another bit of pace work on Thursday, just to make sure she didn't get away on me," Portelli said. "She is the perfect two-year-old because you keep working her and she still has improvement left in her even after that."
Secret Lady had jumped to the front and rolled along, while Brenton Avdulla was fighting Plague Stone for the first part of the race.
He had been half a length slow from the gates and didn't want to be in behind and started to throw his head and overrace.
He had Secret Lady's measure by the 600m mark but she had too strong a kick for him in the straight.
"He just did a bit wrong," Avdulla said. "He jumped OK. There was a line of three of them early but I just thought I'd come back and get him to travel but he didn't want to switch off for me behind that slow speed so I had to let him stride around them.
"I couldn't let him fight me the whole way so I made the decision to let him stride around them as they were only going slow.
"Race experience beat him."
Secret Lady got away from Plague Stone in the closing stage to score by 1-1/4 lengths with Orcein working home well for third another half length back.
She ran only 0.18 second outside the class record of Yankee Rose, which went on to be a Golden Slipper runner-up.
Portelli saved special praise for apprentice Lee Magorrian for his ride.
"When we knew he wouldn't be able to claim I thought about replacing him," Portelli said. "But he knows the filly and that showed there because he made the right decision to go forward when she jumped well.
"He is a very good rider and underrated and it was good to see him get that job done."
Chris Roots - Sydney Morning Herald - 25 November 2017